Dental Exam and Cleaning in Gig Harbor
YOUR DENTAL VISIT
Visiting our Gig Harbor dental office every six months is vital for optimal oral health. Any concerns that may arise with your dental health can be addressed early if you visit regularly.

Here at Soundbridge Dental Arts, we provide a soothing environment to help you relax and we utilize advanced technology to ensure your smile receives the best care. Learn about our general dentistry treatments from oral hygiene visits to root canal therapy.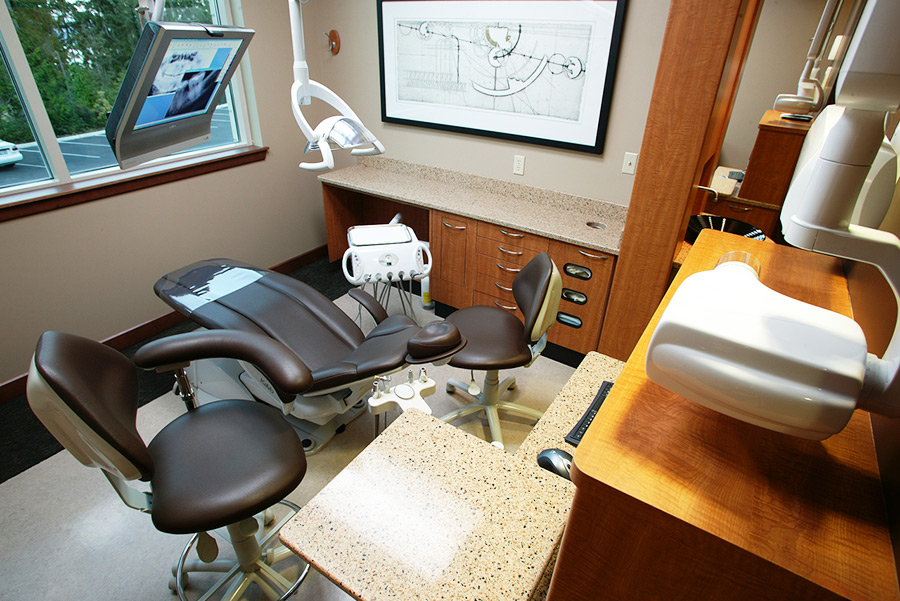 ORAL HYGIENE & DENTAL EXAMS
Though daily brushing and flossing keep your teeth in good shape, even the best of us miss spots. When you visit Soundbridge Dental Arts in Gig Harbor, your teeth will be thoroughly cleaned to make sure all areas are clear of plaque and tartar. This cleaning keeps bacteria from destroying your teeth so you can be confident when you smile.

During exams, we check for cavities, gum disease, and other dental health issues. Many of these problems can progress to be more serious, which can require more complex procedures if they're not treated early.

To protect your oral health, we also offer oral cancer screenings during your routine dental visits. Catching a life-threatening disease while it's easier to treat could save your life.

To make sure we're keeping your smile healthy, our dental office is equipped with state-of-the-art technology and materials. We use digital x-rays for increased analysis of your oral health. Additionally, Dr. Bloomquist attends continuing education courses to stay on top of the latest dental techniques and treatments.
CAVITIES & ROOT CANAL THERAPY
Spots you miss while brushing and flossing may develop into tooth decay. Decay is caused by bacteria that feed on plaque and tartar, eating away at the enamel and eventually leaving a hole, also called a cavity. A small cavity found early on can be filled easily at your dental visits with a sealant. If left untreated, tooth decay can develop through the tooth until it reaches the root canal. This is where the pulp of the tooth is and contains sensitive tissues. If these tissues become infected, root canal therapy is required to save your natural tooth. At the Soundbridge Center for Dental Arts, we want you to be happy with your smile. That's why we use tooth-colored materials to restore your smile when we place your fillings, crowns, and implants.
PERIODONTICS
Also known as gum disease, periodontics can be discovered during your dental exam by one of our hygienists. Gum disease occurs when plaque and tartar build-up along the gums over a long period of time and eventually infects and attacks your teeth and bone. Our team can help reverse the disease at its earliest stages and attend to the affected areas with proper treatments.

We offer a variety of gum disease solutions for every stage and severity of the condition.
ENJOY YOUR DENTAL VISIT AT SOUNDBRIDGE DENTAL ARTS
Our office is designed for your comfort. Seeing the dentist regularly is for the benefit of your overall health, but that doesn't mean it has to be uncomfortable. Come and feel at home with our friendly and helpful staff. Don't hesitate to make your dental experience happier. Contact Soundbridge Center for Dental Arts today for an appointment. We're convenient to patients in Gig Harbor, Tacoma, and throughout the South Sound area.
Give Us A Call
If you want to learn more about our dental cleaning and exams, or if you have any other questions or concerns, then please call our office at 253-857-4114.