Professional Teeth Whitening in Gig Harbor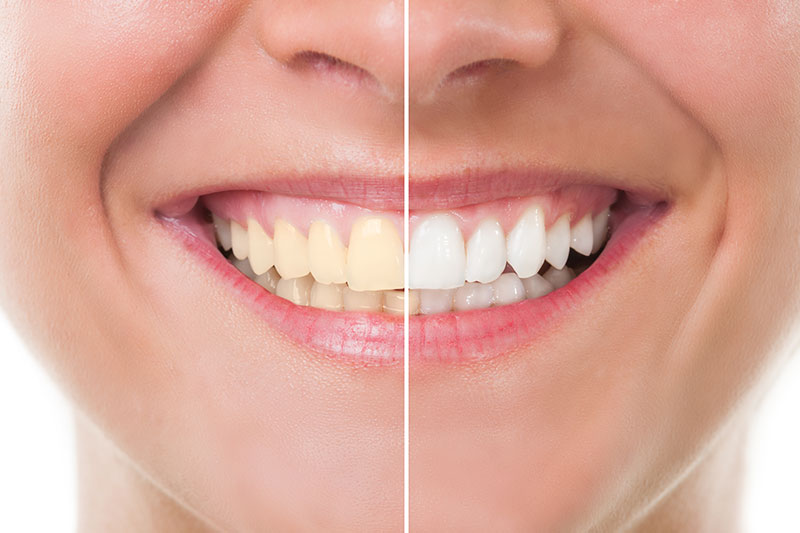 WHAT YOUR SMILE CAN DO FOR YOU
Your smile is an important part of your appearance — it's often the first thing people notice about you. While a dull or discolored smile isn't the end of the world, a brighter smile can help to make a better first impression.

Often, off-color teeth can lead people to feel self-conscious about smiling, so they don't smile as often. This can deprive you of the benefits of smiling, such as feeling happier, being more social, and living longer.

Learn how our Gig Harbor dentists can restore your self-confidence through teeth whitening.
Common Causes of Discolored Teeth
The severity of the discoloration on your teeth will determine how many appointments you will need until your they are completely whitened.

Though many people think yellow teeth are solely caused by poor oral hygiene, there are really many reasons that teeth become discolored. Some of the other causes include:
Dark-colored foods or beverages that stain
Natural age-related discoloration
A thinner layer of enamel
How the Procedure Works
Your teeth whitening will be completed in one visit, so you'll be able to leave our office with a whiter smile. But before your procedure begins, your dentist will perform an oral exam and make sure teeth whitening is the appropriate treatment for you.

The teeth whitening procedure begins with your dentist placing a device in your mouth that separates your lips from your teeth to prevent harm to your skin. Then, the whitening solution is applied to your teeth and takes about 30 to 60 minutes to complete.

Once your teeth have been whitened, your dentist will rinse off the whitening treatment and you'll be good to go.
ARE YOU A CANDIDATE?
Teeth whitening is a great option for many people. If you're looking for a brighter smile that you can be confident in, you may be a candidate.

But there are some cases where we must exercise caution. We may have to evaluate your case on an individual basis if:

You have gum disease, cavities, or worn enamel – You may have to put off whitening treatment until the condition of your teeth is better because whitening material can power through existing decay and make it worse.

You have very dark, stained teeth – The darker the stain is, the less likely it will react to whitening treatment. Though whitening may not be the best option in these cases, we can offer veneers, crowns, and bonding to help.

You're under the age of 16 – We recommend against whitening for children under the age of 16 because the roots of the teeth are enlarged until fully developed. Whitening treatment can irritate the tooth nerves and cause sensitivity.

You're pregnant or lactating – The chemicals of teeth whitening agents can affect the health of your child and have adverse effects. Teeth whitening isn't appropriate in these cases.

You have composite resin fillings or crowns – The composite resin material we use for restorations is highly resistant to staining, but that also means it doesn't react with whitening agents. Your teeth may look blotchy and mismatched if you get them whitened after getting composite resin restorations.
If you have any questions regarding Professional Teeth Whitening in Gig Harbor, then please call our office at 253-857-4114.